About Ken Ortegel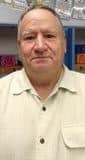 Ken Ortegel is our 3rd grade teacher. Mr. O, as his students call him, recently retired from Grand Rapids Public Schools, where he consistently obtained, "highly effective" teacher ratings throughout his tenure in education. He has over 30 years of teaching experience, possessing strong skills in the protocols and strategies in student services and differentiation.
Mr. O. is a resident of Cedar Springs and a parishioner of St. John Paul II. He loves sports and was a highly decorated coach in soccer and basketball winning multiple district championships.
We are very fortunate to have him share his talents with us.